Ovonic 14.8V 80C 650mah 4S Lipo Battery Pack with XT30 Plug for FPV 90-150mm
Sold out
Original Price
$32.25 AUD
FPV racing drones or freestyle quadcopter require a lot of power. For this special requirement, Ovonic produces 4s 650mah lipo with excellent discharge rate performance for 90mm to 150mm size FPV. The continuous 80C discharge of 14.8V 650mah 4S offers lower internal resistance and minimal voltage sag.
You can find more micro FPV batteries on ovonicshop, such as 650mah 3s, 850mah 4s, etc.
Spec of 650mah 4s lipo battery:
- Brand : Ovonic
- Chemistry : Li-polymer
- Length(dev.5mm) : 59mm
- Width(dev.2mm) : 31mm
- Height(dev.2mm) : 22mm
- Capacity : 650mAh
- Voltage : 14.8V
- Cell Number : 4S1P
- Discharge Rate : 80C
- Max Burst Discharge Rate : 160C
- Net Weight(dev.20g) : 71g
- Connector Type : XT30 Plug
- Balance Connector Type : JST-XH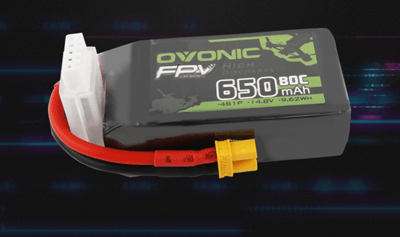 Compatible with:
Ovonic 4s 650mah is suitable for whoops like Diatone GT-RABBIT R349,GT-Rabbit R369 etc.
Please Notice:
For the RC battery, only if the voltage and the plug match, then it will fit. 
Please stop charging immediately when the cell voltage been charged to 4.2v (Normal cell voltage is between 3.7v~4.2v). 
To double make sure safety, please have a check first whether the battery surface is alright when you get it and whether the voltage is normal before using. 
If the new battery won't hold a full charge or loss the charge very quickly in a short time, please use Balance Charger to charge and recycle several times first.