Ovonic 22.2V 50C 6S 4500mAh LiPo Battery Pack with T Plug for Heli Drone Plane
Save

18

%
Original Price
$199.98 AUD
Current Price
$164.40 AUD
Ovonic is a professional brand which mainly manufactures high rate & high quality LiPo battery, focusing on research, development, production, and sales of LiPo batteries.
Ovonic 4500mah 6s lipo is suitable for Arrma 6s car, multicopter drone, Freewing,etc.
You can find more 6s LiPo batteries on Ovonicshop like 50C 5200mah 6S with XT90.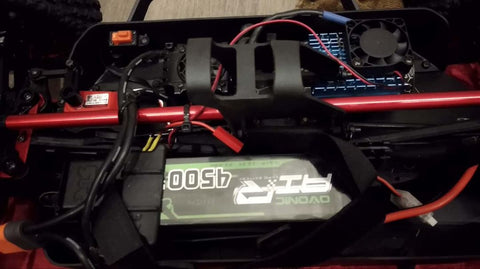 Specifications of 6s 4500mah:
- Brand : Ovonic
- Chemistry : Li-polymer
- Length(dev.5mm) : 140mm
- Width(dev.2mm) : 43mm
- Height(dev.2mm) : 49mm
- Capacity : 4500mAh
- Voltage : 22.2V
- Cell Number : 6S1P
- Discharge Rate : 50C
- Max Burst Discharge Rate : 100C
- Net Weight(dev.20g) : 1208g (604g for one pack)
- Connector Type :Dean plug
- Balance Connector Type : JST-XH
Compatible With:
Ovonic 50C 22.2V 6S 4500mAh Lipo Battery fit for T-REX 550X/600L/700/760/800E, SG507 - GOBIN 500 SPORT, Arrma 6s cars, multicopter drone, etc. (Only if the voltage, dimension and the plug match, then it will fit)
A test video of this 4500mAh 6S for Freewing F-16 from buddy1065:
Please Notice:
For the RC battery, only if the voltage and the plug match, then it will fit.
Please stop charging immediately when the cell voltage been charged to 4.2V (Normal cell voltage is between 3.7V~4.2V).
To double make sure safety, please have a check first whether the battery surface is alright when you get it and whether the voltage is normal before using.
If the new battery won't hold a full charge or loss the charge very quickly in a short time, please use Balance Charger to charge and recycle several times first.