Ovonic 3000mah 4S 14.8V 35C Lipo Battery Pack with EC3 Plug for Airplane&Heli
Save

18

%
Original Price
$78.00 AUD
Ovonic is a professional brand which mainly manufactures high rate & high quality LiPo battery, focusing on research, development, production, and sales of LiPo batteries.
Ovonic lipo 3000mAh 4S 35C EC3 battery can be used on many RC models,such as RC plane, RC heli, RC car, etc.
If you want a lipo with higher discharge rate, 2200mah 4s 50C is also available, and more RC plane lipo battery is offered.
Specifications of Ovonic 3000mAh 4S 35C:
- Brand : Ovonic
- Chemistry : Li-polymer
- Length(dev.5mm) : 137mm
- Width(dev.2mm) :42mm
- Height(dev.2mm) : 25mm
- Capacity : 3000mAh
- Voltage : 14.8V
- Cell Number : 4S1P
- Discharge Rate : 35C
- Max Burst Discharge Rate : 70C
- Net Weight(dev.20g) : 300g
- Connector Type : EC3 Plug
- Balance Connector Type : JST-XH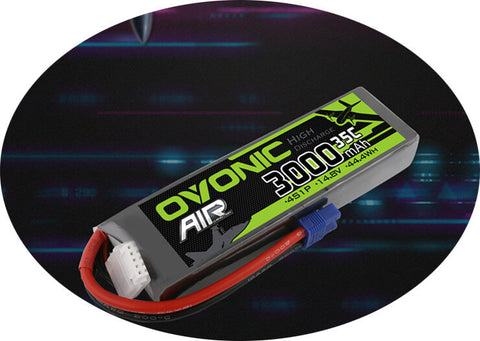 Compatible with:
Ovonic 35C 4S 3000mAh lipo battery can be used on many RC models, like the follows:
Plane:
e-flite Mustang 280 (tightly)
small Flitetest airplanes like the Nutball and Flyer.
turnigy bonsai wing
Reaktor 3D von Hobbyking
small scratchbuild balsa trainer
small foamie
FT Swappable builds
Yak mit 80cm Spw
depron biplane
Twinstar 2
MiniSwift with Upgrade
Kinetic 800
low-weight foamies or for feeding cameras/FPV.
small foam flying
Slowflyer
small garden flyer
medele depron outdoor
GWS ME 262
78cm Shockflyer Extra XXL
Piaget
foamie ultimate V2(160g)
Multiplex Merlin
Fascinate F3A Depron
F3A Ikarus shockflyer
slofly22 foamy
small foam cub rc airplane
heli:
btt cupid and my blade cp
Hirobo Quark SG.
small 4-Channel 2.4Ghz Walkera CB180D helicopter.
TX:
walkera 2402
1500mw FPV TX&CAM setup
video tx
fpv camera and tx
Futaba 8HUs TX
FPV system
FPV equipment in the Easy Glider Pro
airsoft:
mpx
cars:
1/36 BL losi micro high roller
RC18
Please Notice:
For the RC battery, only if the voltage and the plug match, then it will fit.
Please stop charging immediately when the cell voltage been charged to 4.2V (Normal cell voltage is between 3.7V~4.2V).
To double make sure safety, please have a check first whether the battery surface is alright when you get it and whether the voltage is normal before using.
If the new battery won't hold a full charge or loss the charge very quickly in a short time, please use Balance Charger to charge and recycle several times first.