Ovonic 2S 4600mAh 7.4V 50C Hardcase Short LiPo Battery with 4mm Bullet for 1/10 RC Buggy
Save

24

%
Original Price
$52.28 AUD
Ovonic is a professional brand which mainly manufactures high rate & high quality LiPo battery, focusing on research, development, production, and sales of LiPo batteries.
Ovonic 2S 4600mAh Shorty LiPo Battery for most of 1/10 buggy, such as TLR22, XRAY, YOKOMO etc.
Check more RC car batteries.
Ovonic 2S 4600mAh 7.4V 50C Specifications:
-Brand: Ovonic
-Chemistry: Li-polymer
-Length (dev.5mm): 95mm
-Width (dev.2mm): 46mm
-Height (dev.2mm): 25mm
-Capacity: 4600mAh
-Voltage: 7.4V
-Cell Number: 2S2P
-Discharge Rate: 50C
-Max Burst Discharge Rate: 100C
-Net Weight (dev.20g): 188g
-Connector Type: 4.0mm bullet to Deans
-Wire Gauge / Wire Length: 12 # / 100mm
-Balancer Connector Type: JST-XHR
Compatible with:
Ovonic 4600mAh 2S is fits most 1/10 buggies, such as:
B - YZ 2 DT - YZ - 2 DT 2 WD Off - road Car Kit / 2 WD Off - Road car YZ - 2 DT (for Dirt Surface)
B - YZ 4 - YZ - 4 4 WD off road car / 4 WD Off - Road car YZ - 4
B-MAX2MR2
RC10SC5M Team Kit
RC10B64 Team Kit
RC10B64D Team Kit
RC10B64 Club Racer
RC10B6 Team Kit
RC10B6D Team Kit
RC10B6 Club Racer
RC10F6 Factory Team
RC10B6.1 Factory Lite
RC10SC6.1 Team Kit
RC10T6.1 Team
RC10B6.1D Team Kit
22T 4.0 Stadium Truck
22T 3.0 Stadium Truck
22SCT 3.0 2wd short course truck
22 4.0 SR RACE 2WD SPEC BUGGY &22 4.0 RACE 2WD SPEC BUGGY
22 3.0 SPEC-RACER MM RACE 2WD BUGGY
22 3.0 MM RACE 2WD BUGGY
22-4 2.0 RACE 4WD BUGGY
22T 2.0 RACE KIT: 1/10 2WD STADIUM TRUCK
Spyder SDX4 buggy
Serpent F110 Formula 1/10 EP SF3
Serpent F110 Formula 1/10 EP SF2 Wide-foam
Serpent S100 LTR pancar
Bully II MOA Competition Crawler Kit
TKR7200 – ET410 1/10th 4WD Competition Electric Truggy Kit
TKR6500 – EB410 1/10th 4WD Competition Electric Buggy Kit
1/10 1968 Ford F-100 Ascender 4WD BND
1/10 1972 Chevrolet K10 Pickup Ascender 4WD Brushed RTR
1/10 1972 Ford Bronco 4x4 Ascender Brushed RTR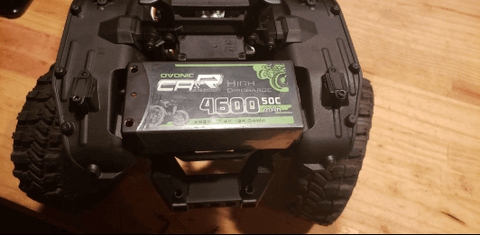 Please Notice:
For the RC battery, only if the voltage and the plug match, then it will fit.
Please stop charging immediately when the cell voltage been charged to 4.2V (Normal cell voltage is between 3.7V~4.2V).
To double make sure safety, please have a check first whether the battery surface is alright when you get it and whether the voltage is normal before using.
If the new battery won't hold a full charge or loss the charge very quickly in a short time, please use Balance Charger to charge and recycle several times first.