OVONIC 7200mAh 3S 11.1V 80C Lipo Batteries Pack with Deans Plug for RC Car Truck
It is crucial to choose a suitable battery for your RC hobbies. The battery has a different voltage and is represented by the S level. 3S 11.1v lipo batteries is a popular voltage for RC car.
When you want a powerful battery pack that you can depend on even when you push it to its limits, this Ovonic 80C 3S 7200mAh 11.1V LiPo Battery with Deans Plug is for you. 
 If you don't need 80C discharge rate and need a cheaper 7200mAh 3S, 7200mAh 3S 50C is also available.
Spec of Ovonic 11.1V 7200mAh 3S 80C battery:
- Brand : Ovonic
- Chemistry : Li-polymer
- Length(dev.5mm) : 138mm
- Width(dev.2mm) : 46mm
- Height(dev.2mm) : 49mm
- Capacity : 7600mAh
- Voltage : 11.1V
- Cell Number : 3S1P
- Discharge Rate : 80C
- Max Burst Discharge Rate : 160C
- Net Weight(dev.20g) : 458g
- Connector Type : Deans Plug
- Balance Connector Type : JST-XH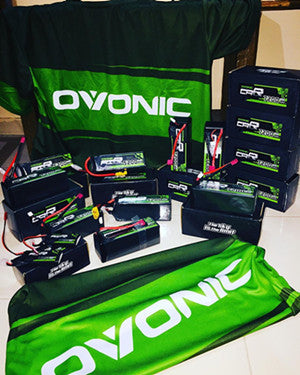 Compatible For:
Ovonic 3s 7200mah Lipo battery specially designed for 1/8 and 1/10 rc car, Losi, Traxxas Slash, HPI Strada XB 1/10 RTR Electric Buggy, Team Associated, Axial, Tamiya, Duratrax, Jammin, Redcat Racing, Exceed RC, ElectrixRC, Emaxx, Bandit, Rustler version (Only if the voltage, dimension and the plug match, then it will fit).
Please Notice: 
For the RC battery, only if the voltage and the plug match, then it will fit. 
Please stop charging immediately when the cell voltage been charged to 4.2v (Normal cell voltage is between 3.7v~4.2v). 
To double make sure safety, please have a check first whether the battery surface is alright when you get it and whether the voltage is normal before using. 
If the new battery won't hold a full charge or loss the charge very quickly in short time, please use Balance  Charger to charge and recycle several times first.